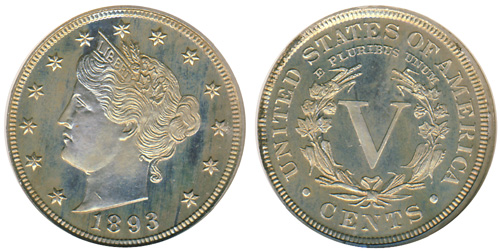 The Philadelphia Mint struck proof versions of the Liberty Nickel for each year of the series from 1883 to 1912. Most issues were struck by the thousands, representing high mintages for proof coins of this era. As a result, all Proof Liberty Nickels (Buy on eBay) remain relatively available for present day collectors.
A complete collection of the 31 different proof issues of the series can be assembled without much difficulty. The two dates which command a premium are the 1885 and 1886. Although the mintages for both were on the high end of the spectrum, the rarity of the circulation strike coins increases the demand for the proof coins.
For all years, cameo proof coins can be found. Coins exhibiting deep cameo or ultra cameo devices are much more rare and have not been graded as such for many issues of the series.
Proof Liberty Nickel Mintages
| | |
| --- | --- |
| Date | Mintage |
| 1883 without CENTS | 5,219 |
| 1883 with CENTS | 6,783 |
| 1884 | 3,942 |
| 1885 | 3,790 |
| 1886 | 4,290 |
| 1887 | 2,960 |
| 1888 | 4,582 |
| 1889 | 3,336 |
| 1890 | 2,740 |
| 1891 | 2,350 |
| 1892 | 2,745 |
| 1893 | 2,195 |
| 1894 | 2,632 |
| 1895 | 2,062 |
| 1896 | 1,862 |
| 1897 | 1,938 |
| 1898 | 1,795 |
| 1899 | 2,031 |
| 1900 | 2,262 |
| 1901 | 1,985 |
| 1902 | 2,018 |
| 1903 | 1,790 |
| 1904 | 1,817 |
| 1905 | 2,152 |
| 1906 | 1,725 |
| 1907 | 1,475 |
| 1908 | 1,620 |
| 1909 | 4,763 |
| 1910 | 2,405 |
| 1911 | 1,733 |
| 1912 | 2,145 |