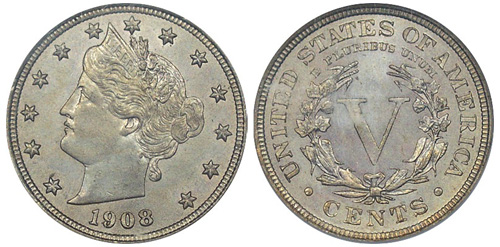 The Liberty Nickels carry the same specifications as the prior series, with a composition of 75% copper and 25% nickel. Each coin has a standard weight of 5 grams, diameter of 21.2 mm, and a plain edge.
All coins of the series were struck at the Philadelphia Mint until 1912, when coins were also struck at the San Francisco and Denver Mints. The mint mark location appears on the reverse, below the dot between "UNITED" and "CENTS".
The designer of the Liberty Nickel was Charles E. Barber who had designed many of the contemporary coins of the same era.
Dates: 1883-1912
Mint Mark: D (Denver), S (San Francisco)
Composition: 75% copper, 25% nickel
Weight: 5 grams
Diameter: 21.2 mm
Edge: plain
Designer: Charles E. Barber