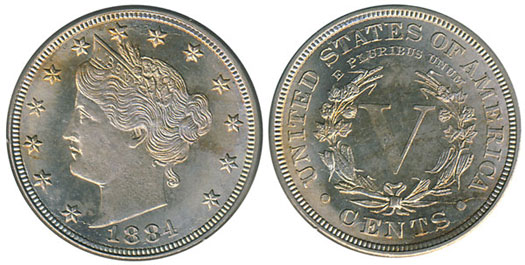 The 1884 Liberty Nickel (Buy on eBay) was the second year of the new series. As was customary at the time, all production for this denomination took place at the Philadelphia Mint. This included 11,270,000 pieces struck for circulation and 3,942 proof coins struck for collectors.
This issue carries a small premium across all grade levels, although it is generally readily available. The issues does become more scarce at the gem grade level, where finding a sharply struck example with nice eye appeal can take some patience.
The example shown above has been graded PCGS MS63 and is housed in an old rattler style holder. The coin is sharply struck with full details of the stars and wreath on the reverse. Some wisps of original golden color add some uniqueness to this piece.
Coin Specifications
Designer: Charles E. Barber
Composition: 75% Copper, 25% Nickel
Weight: 5 grams
Diameter: 21.2 mm
Edge: Plain