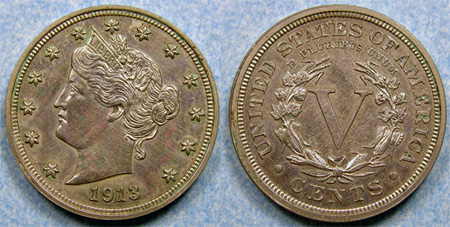 The 1913 Liberty Nickel is one of the most famous and valuable coins in American numismatics. With only five specimens known to exist, the coin has long fascinated collectors and gained widespread recognition after it was the focus of a popular American television show. The known examples of this numismatic rarity carry impressive pedigrees and generate substantial interest on the infrequent occasions when they are offered for public sale.
Part of the allure of the issue rests in the fact that it is not supposed to exist. The Liberty Nickel series officially concluded in December 1912 and was replaced in 1913 by the Buffalo Nickel design. Thus, all 1913-dated nickels were supposed to carry the new design. The existence of coins carrying the old design was first suggested in 1919 when Samuel Brown placed an advertisement offering to pay $500 for any 1913 Liberty Nickel. The following year, he would publicly display an example of the coin. It is believed that he had illegally struck or arranged to strike the coin and placed the ad as a means of legitimizing the issue.
In 1920, a total of five 1913 Liberty Nickels were publicly displayed. These remained together for a time, until the set was split up and sold to five different owners in the early 1940's. Over the years, the coins would pass to different owners including many of the most well-known coin collectors and dealers. In 1974, one of the coins would be used in an episode of the television series Hawaii Five-O. Rather than using a copy, the directors of the program decided to use a genuine example of the coin when filming parts of the episode.
Two of the five known specimens of the 1913 Liberty Nickel are currently within museum collections, with the remaining three pieces changing hands infrequently. One of the specimens has sold on separate occasions for more than $3 million. The finest known specimen is rumored to have sold for a price of $5 million to an anonymous collector.
Coin Specifications
Designer: Charles E. Barber
Composition: 75% Copper, 25% Nickel
Weight: 5 grams
Diameter: 21.2 mm
Edge: Plain