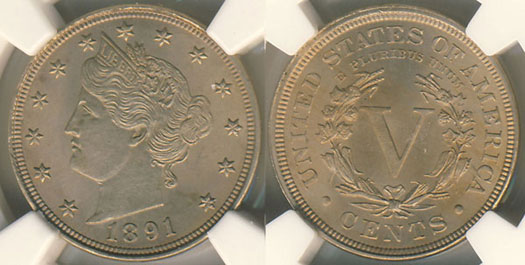 The 1891 Liberty Nickel (Buy on eBay) was struck at the Philadelphia Mint for circulation and in proof format. The circulation mintage was 16,832,000 pieces, around the same level as the previous year. The proof mintage was 2,350 pieces, representing a decline of about 400 from the prior year.
The availability of this issue is similar to the previous year with gem mint state examples somewhat difficult to find. Once again an important consider is the fullness of the strike. The example shown above shows all of the details present in Liberty's hair and full details in the ear of corn in the left portion of the wreath. This is not always the case and finding a sharply struck coin can take some searching.
Despite the slight drop in mintage, availability for proof versions of the coin is much the same. Although these coins were minted in lower numbers, the survival rate is high since examples were saved by collectors throughout the years.
Coin Specifications
Designer: Charles E. Barber
Composition: 75% Copper, 25% Nickel
Weight: 5 grams
Diameter: 21.2 mm
Edge: Plain