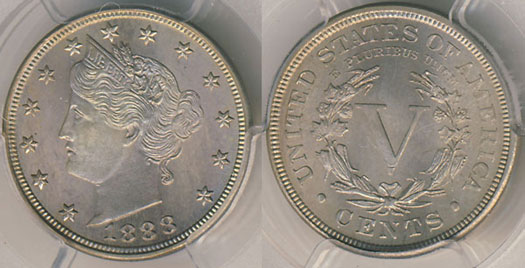 The 1888 Liberty Nickel (Buy on eBay) can be somewhat more difficult to find for those assembling a full date and mint mark collection of the series. In circulated grades, this coin carries a premium above the more common issues, although not at the level of the famous keys. In mint state and proof, quality considerations can become a problem. It may take some searching to find a fully struck coin with attractive luster.
The Philadelphia mint struck 10,167,901 pieces for circulation and an additional 4,582 proofs. As typically the case, the proofs have a much higher survival rate compared to the coins issued for circulation.
Shown above is an example of this date graded PCGS MS65 in a Secure holder and with a CAC sticker. This is an attractive example for the issue with full radial lines present on the obverse stars and full detail in the wreath, indicative of a strong strike. The surface quality is appealing beneath a light patina of original coloration.
Coin Specifications
Designer: Charles E. Barber
Composition: 75% Copper, 25% Nickel
Weight: 5 grams
Diameter: 21.2 mm
Edge: Plain