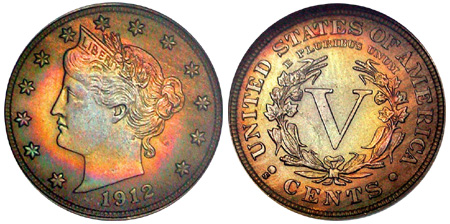 The 1912-S Liberty Nickel (Buy on eBay) has the lowest mintage of the series by far, with only 238,000 produced. This is also the only date of the series struck at the San Francisco Mint, and one of only two issues containing a mint mark.
Despite the low mintage, the issue remains more accessible than the higher mintage 1885 and 1886 coins. Many 1912-S Liberty Nickels were saved before they had a chance to circulate, leaving a greater supply for present day collectors.
As with all issues, striking quality of the 1912-S Liberty Nickel varies, making exceptionally well struck pieces very rare. Many coins of this issue have toned in very attractive gold and lilac colors.
Coin Specifications
Designer: Charles E. Barber
Composition: 75% Copper, 25% Nickel
Weight: 5 grams
Diameter: 21.2 mm
Edge: Plain