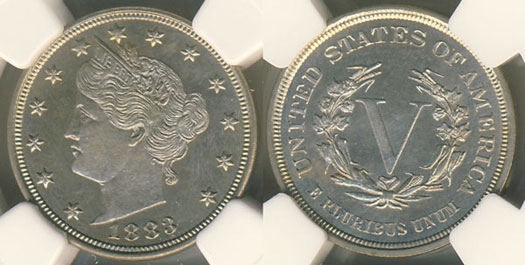 A new design was adopted for the five-cent denomination in early 1883. The obverse contained a rendition of Liberty wearing a crown with agricultural elements intertwined with her hair. Thirteen stars surround the image with the date below. On the reverse, the denomination is indicated by a large Roman numeral "V" surrounded by an agricultural wreath and inscriptions.
A much recounted tale in numismatics is that some examples of the nickel were gold plated and passed off as $5 gold pieces. This was possible since the only identification of the denomination was the large "V" on the reverse. To prevent the practice of creating these "Racketeer Nickels", the design would be altered during the same year to include the word "CENTS" beneath.
The total mintage of the 1883 Liberty Nickel Without CENTS (Buy on eBay) was 5,474,300 pieces struck for circulation at the Philadelphia Mint. The peculiar stories about this issue resulted in quantities of the "without CENTS" variety to be retracted from circulation and saved by the public. As a result, these coins remain readily available to collectors in the present day, even in uncirculated condition.
Quality of this issue can vary from coin to coin. Some examples will display near proof-like surfaces, others may exhibit a proliferation of die cracks. The sharpness of the strike can also vary. Since a great many examples are available in uncirculated grades, care should be exercised in selecting a high quality example with appealing characteristics.
Coin Specifications
Designer: Charles E. Barber
Composition: 75% Copper, 25% Nickel
Weight: 5 grams
Diameter: 21.2 mm
Edge: Plain