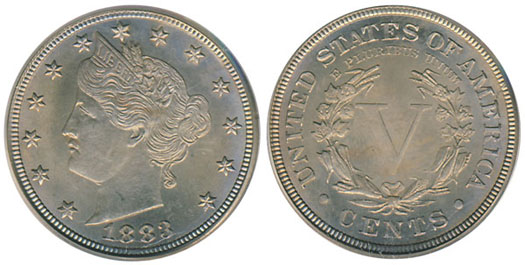 During the first year of issue, the design for the Liberty Nickel was altered to more clearly identify the denomination. The initial design used only a large Roman numeral "V" on the reverse, which led some examples to be gold plated and passed off as $5 pieces. To prevent this from occurring, the word "CENTS" was added beneath the agricultural wreath and the inscription "E Pluribus Unum" was moved above.
The 1883 Liberty Nickel with CENTS (Buy on eBay) had a total minted for circulation of 16,026,200, which was more than triple the mintage for the "without CENTS" variety. Nonetheless it is actually the "with CENTS" variety that is scarcest for present day collectors. This is because a large number of examples from the initial variety were hoarded by the public, while far fewer examples of the latter variety were saved.
The Philadelphia Mint also struck the coins in proof format for collectors, with a total mintage of 6,783 pieces.
Coin Specifications
Designer: Charles E. Barber
Composition: 75% Copper, 25% Nickel
Weight: 5 grams
Diameter: 21.2 mm
Edge: Plain