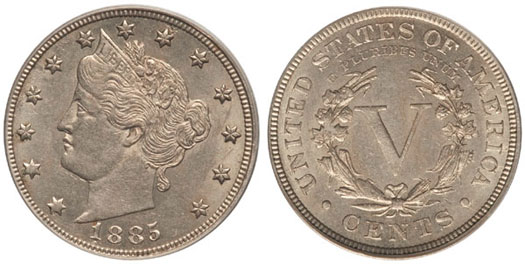 The 1885 Liberty Nickel (Buy on eBay) is regarded as the key date coin of the series. There were 1,472,700 examples originally struck for circulation at the Philadelphia Mint. This is actually not the lowest mintage for the series, but circulation took a heavy toll. At the time of issue, it was not as customary to save newly minted coins, and by the time coin collecting had gained in popularity, very few pieces remained available. The majority of surviving examples are well worn, with uncirculated examples extremely rare.
This coin carries a premium across all grade levels and will typically be the most expensive coin for a collector to acquire for the completion of a set at any given grade level. Examples graded Good-4 may cost around $500, while examples in Mint State 65 could cost upwards of $10,000 depending on the quality and characteristics of the coin.
The Philadelphia Mint also struck proof 1885 nickels for this year, with a total mintage of 3,790 pieces. Since the proof coins were sold to collectors, the survival rate is much higher resulting in more widespread availability. It will be less costly to acquire a gem proof coin compared to a gem uncirculated coin.
Coin Specifications
Designer: Charles E. Barber
Composition: 75% Copper, 25% Nickel
Weight: 5 grams
Diameter: 21.2 mm
Edge: Plain