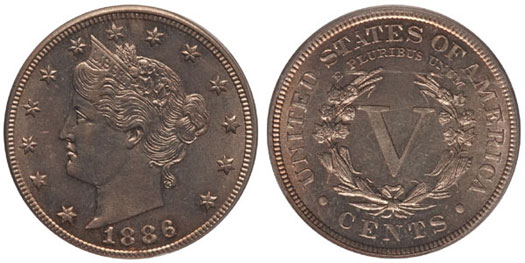 The 1886 Liberty Nickel is regarded as the second rarest coin of the series. The total number of coins struck for circulation at the Philadelphia Mint reached 3,326,000. While this number is not extremely low, the coins entered circulation shortly after production and very few were saved. Decades later when coin collecting had grown in popularity and sets were assembled, the remaining examples of this coin were well worn and somewhat scarce.
An interesting aspect to this issue is the extremely rarity at the highest grade levels. This coin is the most difficult of the series to find graded higher than MS65, surpassing the key date 1885 and the low mintage 1912-S. The major grading services PCGS and NGC show fewer than ten examples of the 1886 Liberty Nickel graded at the MS66 with none higher. When an example graded as such turns up at auction, it generates considerable excitement. In February 2010, an example graded PCGS MS66 with CAC sticker sold for $29,325.
The Philadelphia Mint struck proof examples of the coin for collectors of the day. The proof mintage was 4,290 pieces, which was somewhat higher than typical. As is the case for most issues of the series, the proofs had a much higher survival rate resulting in wider availability and lower prices.