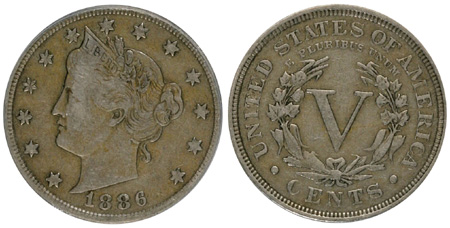 As with the previous year, the 1886 Liberty Nickel experienced a reduced mintage. The total number of coins struck for circulation at the Philadelphia Mint was 3,326,000, which ranks the coin as the third lowest mintage of the series.
Coins are priced at a premium, even in lower circulated grades. Particularly interesting is the fact that well circulated examples are more expensive than similarly graded coins for the 1912-S Liberty Nickel, which has less than one tenth the mintage. This is because fewer 1886 Liberty Nickels were put aside and the coins experienced significant circulation, as opposed to the 1912-S coins which were more likely to be retained.
The 1886 Proof Liberty Nickel is also priced at a premium, although the mintage is actually the third highest for a proof coin. The demand from circulation strikes for the year, carries over to the proof coins, which some people purchase as an alternate way to complete their collections.